Mr Pea and I went shopping today for bits for the Zombie party at the end of the month, I decided I wanted a tea dress and he wanted a suit jacket and trousers, we hit the charity shops with our list in hand and I ended up coming out of one with a knitting machine...as you do.
Vintage knitting goodness
I've been looking for this particular one for quite a while, eBay have had a few but the postage is always high and a lot of people bid on them, they are pretty rare, I couldn't believe my luck when I saw it sitting on the shelf! It's 100% complete and looks like it hasn't even been used, the lady in the charidee shop said that she had only put it out earlier in the day...very lucky indeed!
My test attempt to make sure it works...observe
It's a bit loose on the side, I just need to get my tension a bit better, can't wait to start knitting on it propely!
Oh, I also managed to get a dress for the zombie night too, the assistant had just put it on the rail and I snapped it up quick, another bit of luck! The dress is Henry Holland and is still on the Debenhams site, I got it for £1.95!!!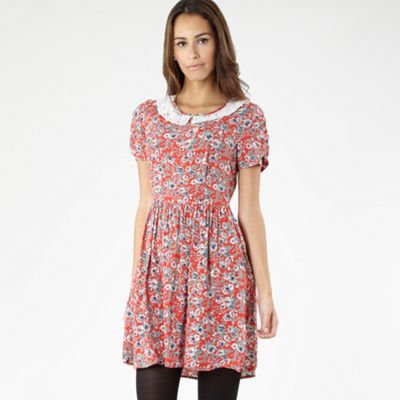 That's not me....but that is my dress!
Very successful charity shop day I'd say!